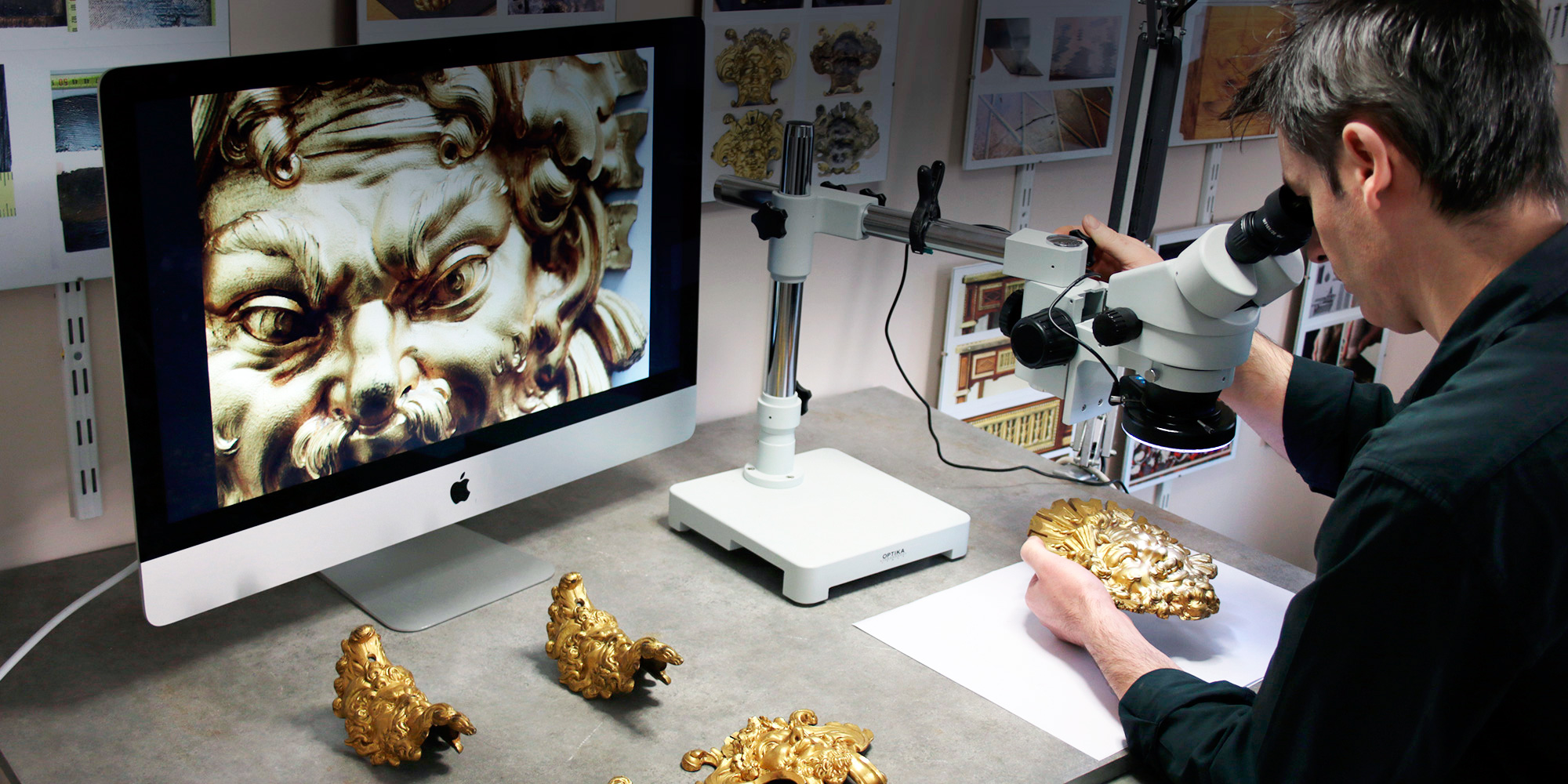 Analysis
Study

Sébastien Evain offers a research service for furniture and works of art. Supported by laboratories and the latest scientific developments, he has developed different techniques of comparative analysis specially adapted for the study of 18th Century French furniture. He makes use of three different but complementary databases, each of which adds something to the study of the piece. A synthesis of the information compiled from these three databases allows for a more precise diagnosis of the different characteristics of a work. As is the case with restoring an object, the best outcome is achieved by comparing different ideas and approaches. Much like an orchestra conductor, Evain acts as the point man, compiling and analysing the data received from the different participants in the study: artisans, scientists and art historians.
Study
Style

His important database has both digital and print components. Together they are made up of tens of thousands of photographs, sale catalogues and monographs classified by period, type of object and cabinet-maker. This tool allows him to follow the sales and publication history of a work of art. It also helps establish comparative analysis and define different groupings of furniture.
Study
Technique

Our database primarily consists of worksheets on every piece that has passed through our workshop. At this point, everything including every tool mark is recorded and photographed. The workshop has the unique ability to remove veneer from its underlying support structure, allowing unrivalled access to information of tool usage and construction techniques, all of which is recorded. At the end of 2016, the database consisted of 78,000 high definition photographs of more than 450 pieces of furniture. It is currently one of the most important private databases for the study of 18th Century French furniture.
Study
History

Our historical database consists of two sections. The first is a classic art historical database revolving around period inventories, archival materials and other historical information. The second group focuses on identifying and dating the tools and inventions used in the production of furniture. For example, the circular saw, the makers wedge, the metric system and electroplating are inventions created after the end of the 18th Century. This allows for the establishment of precise date ranges for pieces that present evidence of the use of certain tools.
Research

Alongside his principal activities, Sébastien Evain tries to devote more than 20% of his time to research in order to further his continued study of furniture and its restoration.
Research
Techniques

2012 : 18th Century furniture finishes
2013 : Perfecting the Germond patent
2014 : Develop synthetic tortoiseshell and other substitute materials
2015 : S.A. Straubharth polytype marquetry
2016 : Modern restoration techniques configured for authenticity analysis
Research
History

2013- 2018 : Bernard Van Risen Burgh I, (1660 – 1738), his complete work (publication in progress)
2014 : The use of bois tabac (sycamore) by J.F. Oeben et J.-H. Riesener; porcelain top tables by BVRBII and RVLC
2015 : Seat furniture made for Marie-Antoinette's Belvédère in 1781
2016 : André-Charles Boulle and his work