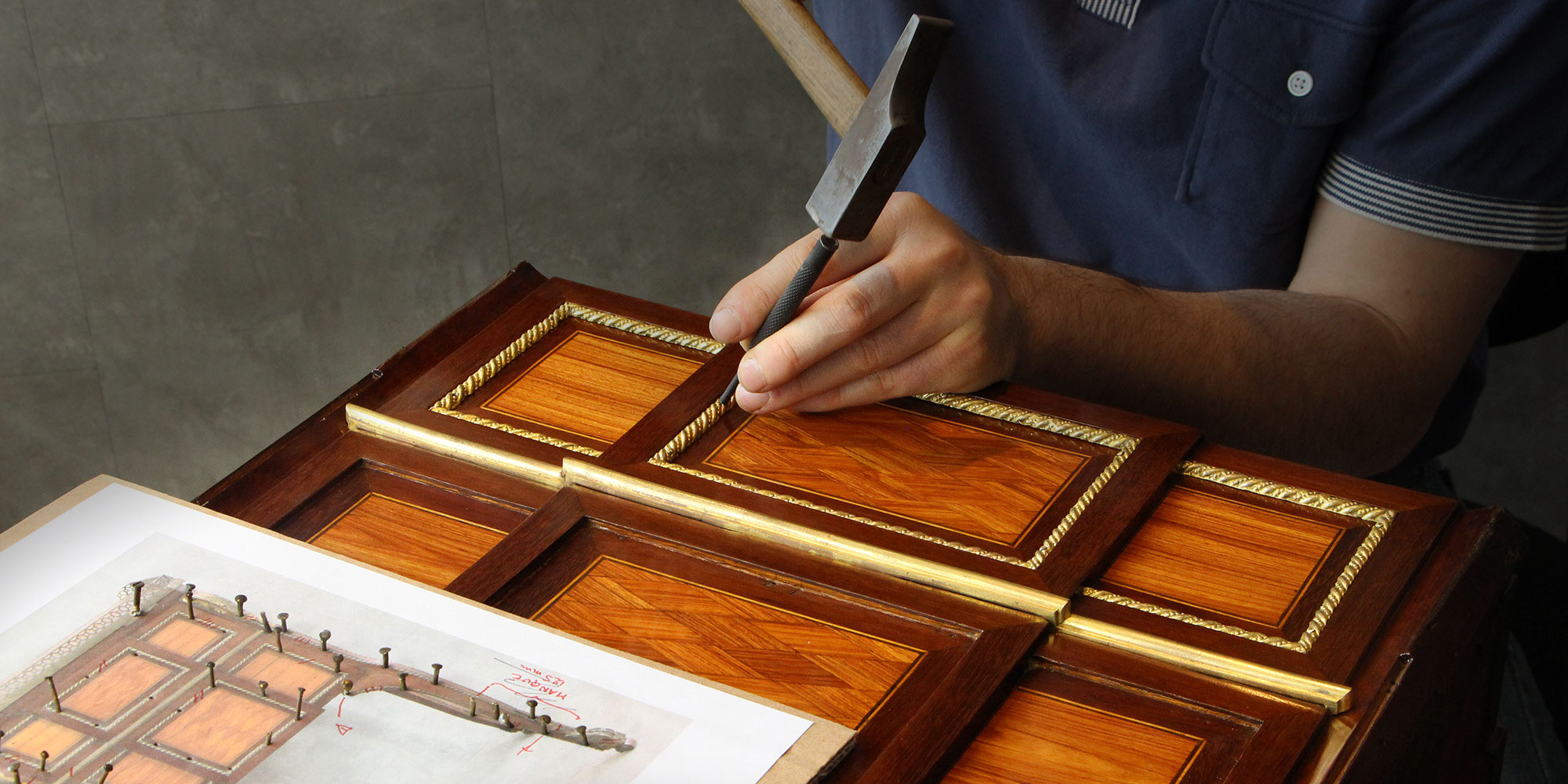 Tailored Restorations
Restoration Conservation

Specialising in 18th Century French furniture, the workshop tailors its works to the specific needs of individual clients. Work ranges from an hour spent repairing a broken foot of a chair to 1,500 hours of time on the complete study and restoration of a bureau plat by André-Charles Boulle. Be it a work of art or a piece of furniture, his work revolves around the knowledge and understanding of the nature of wood.
Expertise
Case Furniture

Far too often one forgets that a case piece veneered in Boulle marquetry, horn, lacquer or even simple mahogany veneer is primarily a large structure with applied decoration. In order to best restore and preserve such a piece, it is important to take as much care in conserving the underlying structure as with the applied decoration. Just as alterations to the wall are the cause of damage to wall-paper, the same is true with the surface decoration of furniture. Evain is known for his mastery of different restoration techniques for veneered furniture and notably his perfection of Michel Germond's patent for removing surface decoration from its support. He is equally attentive to the study of 18th Century techniques of surface finishing, notably that known today as "French polish".
Expertise
Chairs

Evain has extensive training in the area of seat furniture or menuiserie. Whether in stained, painted or gilded wood, chairs had different uses ranging from the purely functional to the highly decorative and ceremonial. The workshop offers restoration adapted to the practical and aesthetic aspects of each piece. These might include the complete disassembly and subsequent mock re-mounting of the chair as was common in the 18th Century, vacuum re-assembly and even custom-made removable seats and backs which eliminate the need for upholstery tacks in the frame. This latter technique has been perfected in partnership with the upholsterer, Rémy Brazet.
Expertise
Works of Art

Sébastien Evain also restores works of art, usually those made with a wooden frame and then covered in precious materials. These may include boxes, mirrors, clocks, game boards and others. Materials used are rare and diverse: mother of pearl, tortoiseshell, tinted horn, bone. The materials are all sourced in compliance with current CITES treaties. Sébastien Evain has perfected a synthetic tortoiseshell for use and he also holds the patent for polytype marquetry.